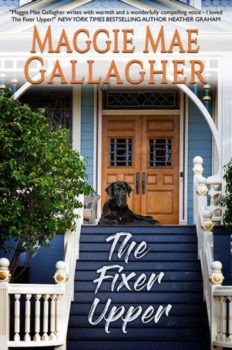 Echo Springs #1
September 6, 2019
Blushing Books Publications
Available in: e-Book
The Fixer Upper
Abby Callier is more in love with Shakespearean heroes than any real man, and she's beginning to wonder if there is life for her outside the pages of a book. It doesn't help that her esteemed parents tend to view her as they would one of their science experiments gone wrong. On the eve of finishing her dissertation, she escapes her staid existence to live in the house she inherited from her Great Aunt Evie in the small town of Echo Springs, Colorado. Because, let's face it, when a woman starts comparing her life to horror films, it might be time for a break.
Sheriff Nate Barnes believes in law and order and carefully building the life you want. In his spare time, he has been remodeling his house in the hope that one day it will be filled with the family he makes. But Nate doesn't like drama or complications and tends to avoid them at all costs. And yet, when Miss Abigail Callier, his newest neighbor, beans him with a nine iron, he can't help but wonder if she might just be the complication he's been searching for all along. It doesn't hurt that he discovers a journal hidden away by the previous tenant and decides to use Old Man Turner's advice to romance Abby into his life.
Abby never expected her next-door neighbor, the newly dubbed Sheriff Stud Muffin, to be just the distraction her world needed. The problem is she doesn't know whether she should make Echo Springs her home, or if this town is just a stopover point in her life's trajectory. And she doesn't want to tell Nate that she might not be sticking around—even though she should because it's the right thing to do, the honest thing—because then all the scintillatingly hot kisses with the Sheriff will come to an abrupt halt. Did she mention that he's a really great kisser?
Abby spent the next hour cleaning her new room as best she could for the night. She'd work on the full house and give it a proper cleaning come morning, but she'd spent the better part of the day in her Rover and could feel the onset of fatigue settling in her bones. There was a semimodern bathroom across the hall, with one of those claw-foot tubs she'd take advantage of when she wasn't dragging her feet and ready to go horizontal for eight hours. 
Settled in for the night, she made herself a small picnic of her wine and cheese offerings and added hitting up the local market for all the essentials to her to-do list for the morrow. Her parents would only shake their heads if they could see her in her thermal pajamas, drinking chardonnay directly from the bottle that hadn't even sported a cork, but a lid that twisted off.
She was toasting her own brilliance when she heard the creak of the front door opening. Grabbing her trusty nine iron, a little gizmo she'd inherited from an ex-boyfriend some years back, Abby cursed at her phone's low battery. 
"Figures," she muttered under her breath. 
She left her room, tiptoeing down the stairs, her movements muffled by her thick socks. She rounded the corner, and a beam of light blinded her. 
"Gah!" Screaming, she swung the iron, ready to take on her intruder. All the self-defense classes her parents had scoffed at hadn't been for naught. Who knew that in a sleepy little mountain town, burglars and vagabonds were a problem? The golf club whizzed over the intruder's head.
"What the?" a deep baritone barked.
She swung again, determined to fend off whoever the hell thought he could invade her aunt's place with mischief on his mind. The shadowed outline of a large man loomed behind the beam of light. When he didn't back off, only kept advancing, her internal panic button hit overdrive. The nine-iron connected with flesh with a thudded whack. 
"Ow, fuck, cut it—"
"Get out or I'll call the police!" she swore, her pulse hammering, her grip on the nine-iron so tight her hand was fusing into a claw formation. She reared back to strike again when his next words halted the forward progression of her swing.
"I am the police." 
She blanched, almost dropping her weapon, but then thought better of it. What if he'd lied to disarm her and then would attack?
Nice try, buddy. She wasn't falling for it. 
"Prove it." She wasn't the atypical heroine who idiotically descended into the darkened basement, despite the light mysteriously not working, to investigate the strange noise. She'd studied horror films and knew she was not the dumb bimbo, but the smart woman who survived. His indicating that he was the police was a sub-plot straight out of a B horror film and was precisely the type of thing the killer would say.
She raised the nine-iron into a defensive position as the man moved to her right, flipping on the overhead light while pulling a shiny silver badge from his belt. He held it toward her so that light reflected off the silver star. Blinking as her eyes adjusted, Abby wondered if she was dreaming. Cornflower-blue eyes studied her, dressed in her flannel pink pajama bottoms, tank top, and fluffy purple robe. He was larger than the darkness had suggested, probably a good six-three, and lean. His dark midnight hair fell in curly waves to his jawline, which was covered in dusky stubble. There was a ruggedness to him, indicating that somewhere in his make-up he preferred life outdoors, and it showed. He reminded her of the men gracing the covers of the romance novels she'd hidden from her parents growing up, and still hid from her colleagues. 
She'd always had a bit of a thing for men in uniform, but the only defining mark that even suggested he was an officer was his black jacket with an emblem embroidered into the right shoulder. Otherwise, he looked like a mountain man, in a button-up emerald flannel shirt and blue jeans that rode low over his muscular hips.
Then she focused on the badge. Oh, sweet heavens! The badge read: Sheriff, City of Echo Springs. Why did this have all the beginnings of a campy horror flick? Woman goes to the wilderness to find herself, makes acquaintance with the local law enforcement, and then the army of dolls stuffed inside the home come to life, possessed by a demon spawn from hell, to try to kill the heroine.
Praise for The Fixer Upper
"Maggie Mae Gallagher writes with warmth and a wonderfully compelling voice – I loved The Fixer Upper!"  New York Times bestselling author Heather Graham

"Maggie Mae Gallagher makes the reader forget the actual words on the page so they can just enjoy the story as it unfolds." Nancy Berland, NBPR, Inc. President